In this article I would like to talk about my experience in Barcelona for the lauch of the new Oral-B Genius X powered toothbrush.
Today I would like to collect all the essential materials from the amazing experience that I lived last week in Barcelona. I was invited by Oral B to be at the launch of their brand-new electric toothbrush with artificial intelligence.
What is this about?
The GENIUS X detects what part of your mouth you're cleaning without the need to brush in front of your smartphone as the previous model did. Researchers have developed two new sensors and an algorithm to better understand your personal technique of brushing. New technological advances have been embraced by researchers of Oral-B and this is the first electric toothbrush with AI (artificial intelligence).
Artificial intellingence applied on a powered toothbrush
Why I talk about artificial intelligence? Because the algorithm has been previously trained with thousands of brushing patterns and It can recognize the users' style. All the efforts put in the building of this prototype, that will be available on the market soon, were made for giving a personalized experience to users and to develop user-friendly devices that can be useful to communicate with clinicians. I find that this new generation of toothbrushes are extremely beneficial for the training of patients and for preventing oral diseases.
This is way I always recommend the use of an electric toothbrush. Now, with Oral B Genius X It's simpler to monitor your brushing technique and less time-consuming.
This is the video that has been shown during our VIP dinner in Barcelona. During the evening event I met lots of professionals from all around the world and we had great fun together. It was fantastic to know dentists and dental hygienists that I had previously met online. And this is the advantage of being online and having a professional profile on social media.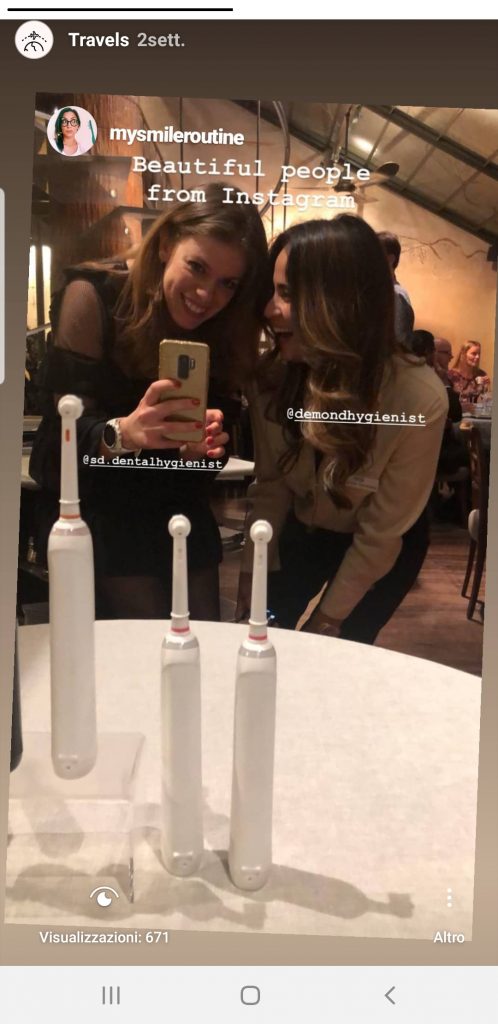 We stayed one day at the MWC19: Mobile World Congress at Fira Gran Via in Barcelona to test the usage of the app and make some videos of the new device. It was the only technological innovation related to oral health presented in this huge event. Mobile World Congress 2019 is the single most important mobile technologies trade fair in the world.
The theme of this year's event is 'Intelligent Connectivity' – the term we use to describe the powerful combination of flexible, high-speed 5G networks, the Internet of Things (IoT), artificial intelligence (AI) and big data. Intelligent connectivity marks the beginning of a new era defined by highly contextualised and personalised experiences, delivered when and where you want them. This is the future of our industry and our world.
I really embrace new technologies in my lifestyle and so my patients and this is why we must be updated on the new global trend on technologies even in the field of oral prevention. Preventive medicine will be the future of our medicine and so dental hygienists will be the future of dentistry. This is way I think that my job is strictly connected to innovation and revolution: I think that our job is ground-braking!
Oral-B powered toothbrush: our best friend
Update: The new Oral-B iO: see the new characteristics here
Sofia Drivas
https://www.sofiadrivas.it/wp-content/uploads/FED03875_web.jpg
1708
2560
sofiadrivas
https://www.sofiadrivas.it/wp-content/uploads/logo-sofia_drivas.svg
sofiadrivas
2019-03-10 09:51:46
2021-08-06 10:57:44
Oral-B powered toothbrush: our best friend!